I am one food-loving-blob as you can tell by looking through my Instagram posts. After skincare, food is my next love. I started cooking at 12 but I am by no means a chef or expert on food, just a person who loves to eat and try new cuisine every chance I get!  I have fond memories of watching cooking shows on PBS with my mom (we didn't have cable). But there is nothing I love more than a good food film. I still have not seen all the best ones out there but here are the ones I absolutely can't get enough of:
Chocolat
This is the ultimate dessert film and it's all about chocolate! Prepare yourself beforehand by stocking up on chocolate truffles–you will be craving them after this movie.
Julie & Julia
Ok so I am a huge fan of Julia Child and I can see why Julie was so enthralled with her cooking and life. This movie definitely inspired me to make many a French-themed meal.
Waitress
I love this movie! It's fun, and you can practically taste the pies that the main character bakes just by looking at them. You just may want to open up your own pie shop after watching this.
Ratatouille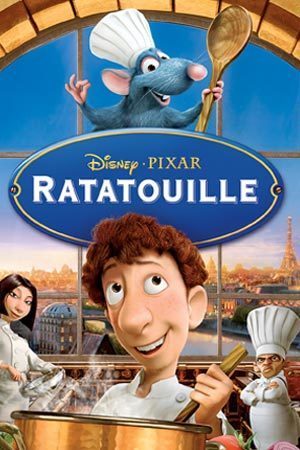 This movie is not for kids only. Any adult whoever finessed the presentation of a tuna fish sandwich will be entertained and inspired to cook. If a rat can do it, why not you?
Eat Drink Man Woman
This is such an awesome movie about family, and very relatable for me since I have 2 sisters and a father who loves to feed people. The cooking scenes in this movie are so full of detail you will feel like the laziest cook ever. The father goes above and beyond for his meals. His cooking is truly a work of art.
I've mentioned this book before and I was pleasantly surprised by the movie. It brings a whole new meaning to the love and work we put into our meals.
Tampopo
This has got to be one of my all-time favorite movies! It has everything you want in a film: drama, comedy, action, romance, and ramen! It is a seriously great excuse to eat ramen for dinner while watching this awesome Japanese classic.
The sad news of Anthony Bourdain's suicide was the impetus for writing about this topic now. Food was his gateway into different cultures and people, and that's what I get from these movies. It isn't the same as actually living and eating with people, but it sure does inspire me to keep my passport up to date.